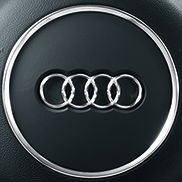 Audi history is a magnificent tapestry combining unrivaled craftsmanship with superior luxury and taste. The Audi brand has been making the world's greatest new luxury vehicles for many, many years. In fact, the brand has been around since 1885, when an automobile company called Wanderer was founded. Wanderer later became a branch of the Audi AG Company.
The Audi name was adopted early in the twentieth century, when one of the company's founders' sons said the brand should be named after the German word for "listen." The idea, of course, is to associate the Audi name with the kind of power and dominance that forces you to listen and respect it.
The Audi logo came a bit later-it was adopted sometime before World War II and used on Auto Union racing cars at first. The four interlocking rings that make up the Audi logo represented the four brands in the Audi company at that time. This was a huge development in Audi history because the Audi 4-ring logo is now one of the most recognizable symbols in the world!
During the war, Audi plants were, of course, turned away from vehicle production and toward military production, but they quickly turned back to vehicle production after the war. Audi finally became a separate brand for good in 1970. Some of the first Audi vehicles were the Audi 100, Audi 80, and the Audi 50. Perhaps the naming system was not very creative, but the cars themselves were both awesome and innovative.
Of course, Audi vehicles have continued to be awesome and innovative ever since. The brand has firmly established itself as one of the best brands on the market, and it continues to get better and better year after year. With new vehicles, products, and technologies hitting the market every year, we can't wait for the next century of Audi history.  Experience everything the Audi brand has to offer by visiting our new and used Audi dealership in Marietta, proudly serving greater Atlanta! We offer a comprehensive vehicle maintenance center and a financing office that is dedicated to helping you maintain and afford your historic car!