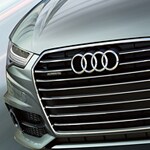 The 2020 Audi A6 has made a huge impression on the automobile industry as well as in society. This full-size sedan is luxurious beyond belief thanks to its soft-touch fabrics and near-perfect ergonomics. The aesthetics of this popular sedan is simply flawless to a certain degree from the inside-out, but there's more.
The 2020 Audi A6 offers quick controls for its infotainment screens. These touchscreen displays are hyper fluid in motion, and you can access the vehicle's navigation from this location. The new Audi A6 utilizes MMI technology for a more seamless experience. You and your passengers can take advantage of Wi-Fi integration. The heated-front seats have massage function. You can access the massage features by touching the multimedia screen. In addition to that, consumers will have access to Android Auto, premium audio, personalized settings and Apple CarPlay.
If you'd like to test drive this luxury sedan, then our reps are ready to speak with you.