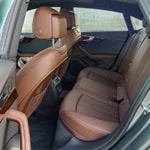 It's difficult to spotlight specific design features of the Audi A5 Coupe. It's combination of interior and exterior design features make for a powerful, gorgeous, sporty ride that continues to be extremely popular among luxury coupes. Our Audi Marietta selected the following two design features to showcase a bit of what Audi A5 Coupe has to offer in full.
Audi A5 Coupe is way too smart to blind oncoming drivers with its brilliant high beams. Instead, it automatically toggles high beams so as not to blind oncoming drivers and so that you can keep your hands on the steering wheel at all times. In addition, Audi A5 Coupe's high beams each consist of 32 LED bulbs arrayed to emit far-reaching, laser-like beams. Audi A5 Coupe's MMI interface is its smartphone-like touchscreen that provides access to infotainment, navigation, climate control and much more. MMI is voice responsive, heeding your casual, plain-English commands and acknowledging each command with its own audible confirmation.
Get the skinny all of Audi A5 Coupe's many design features with a test drive at our Marietta, GA dealership. We await your visit.